Current News
08.25.19
The Eleventh annual Tom Gibbs Memorial Kelleys Island Race is now in the history books. What a ride!
Saturday's start was greeted with winds in the upper teens from the NE and waves running up to 5' for the downhill slide to Kelleys. Many boats reported surfing at over 8 knots and most of the fleet finished with the second fastest Gibbs leg to Kelleys in the races' history. Thanks to Dick Pinter for starting the fleet in the Lorain Harbor. Allegra (Neil Klingshirn) corrected out as the fastest boat on Saturday's leg winning the traditional bottle of rum.
Making a surprise appearance at the skippers' meeting (well, not really that much of a surprise) was the "ice pirate" Captain Pink Feather Boa.
The fleet spent Saturday night on "E" dock at Seaway while they enjoyed a delicious Steak Fry brought up and served by Ryan Pinter and Don and Claudia (and Claudia's friend Nat) Kaspar. Ryan brought supplies and his crew up on his 30' Grady-White.
Sunday's start was conducted by Ryan Pinter and Don Kaspar from Ryan's Grady-White positioned off Seaway. Everyone appreciated the precision start Don and Ryan provided as well as the start line positioned on the "Lorain side" of the Kelleys Island ferry route. Sunday's race was, like real estate, all about "location, location, location." If you went inshore you were toast, those that stayed offshore made-out.
While Jim Morse on Part the Waves corrected out as the fastest Sunday sailor, once again Allegra bested the entire fleet finishing with the fastest combined time for the two leg race and will have her name added to the Gibbs perpetual trophy. Congrats to Neil and crew for a terrific performance and to everyone for another fun close to summer.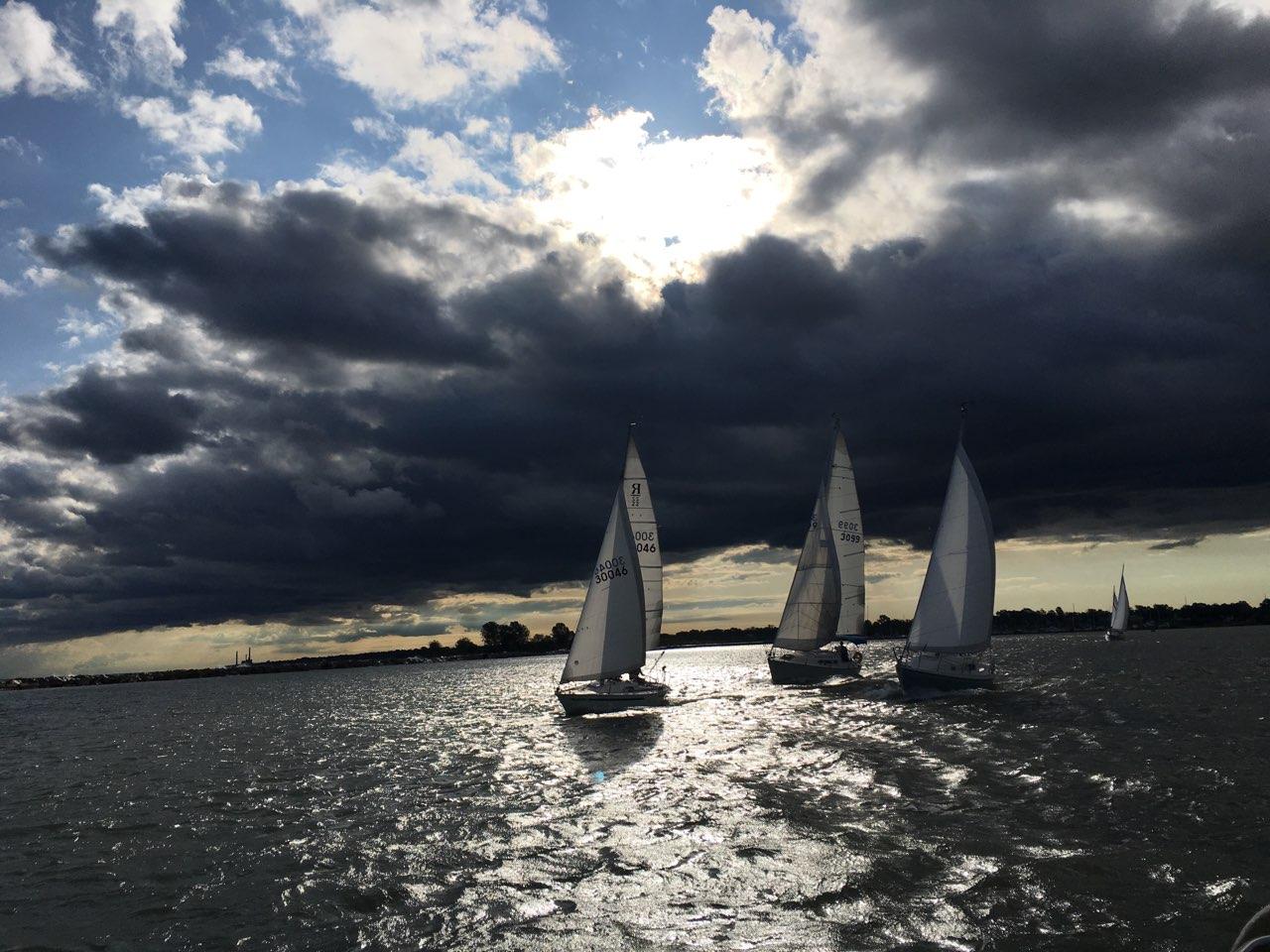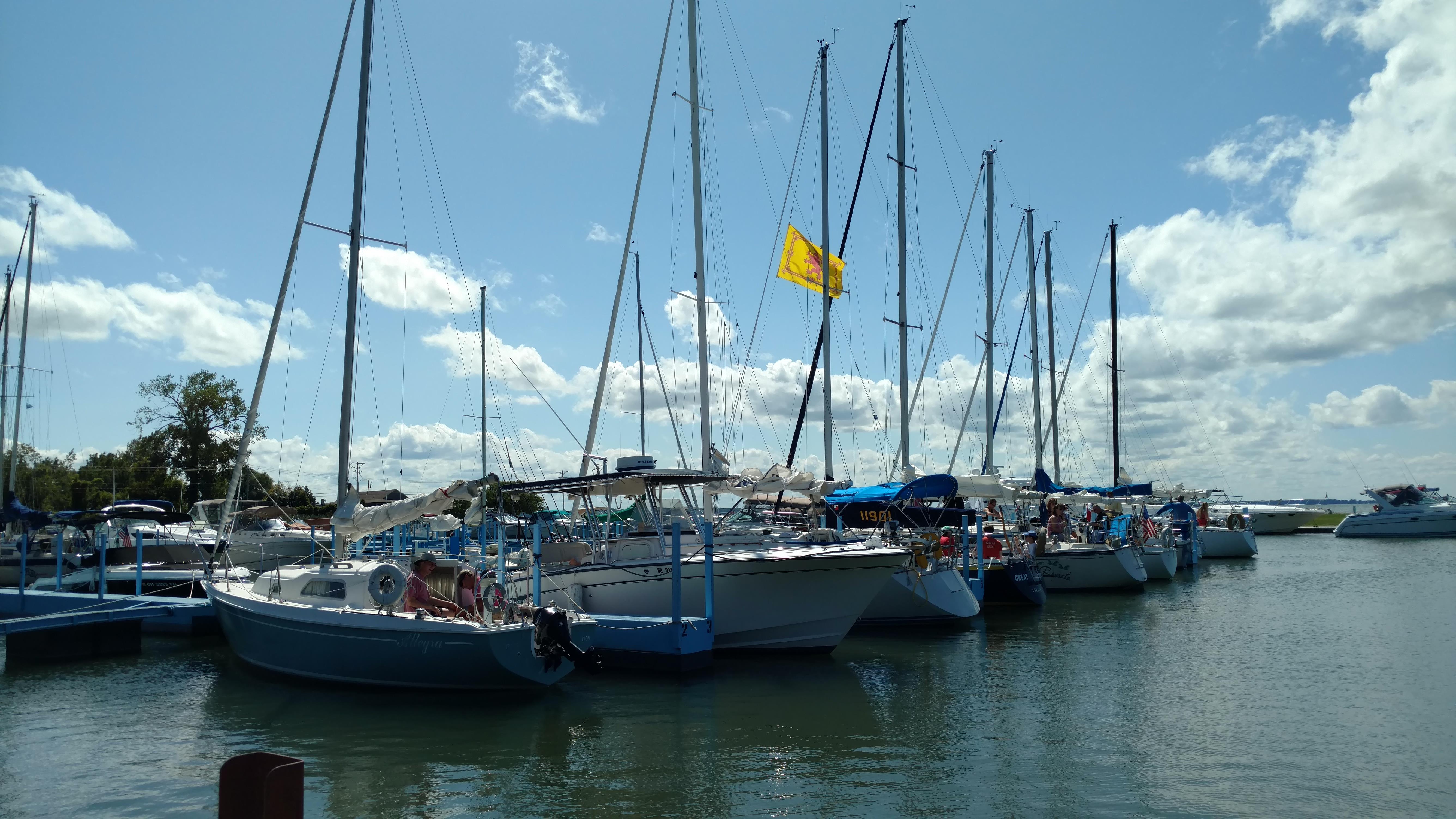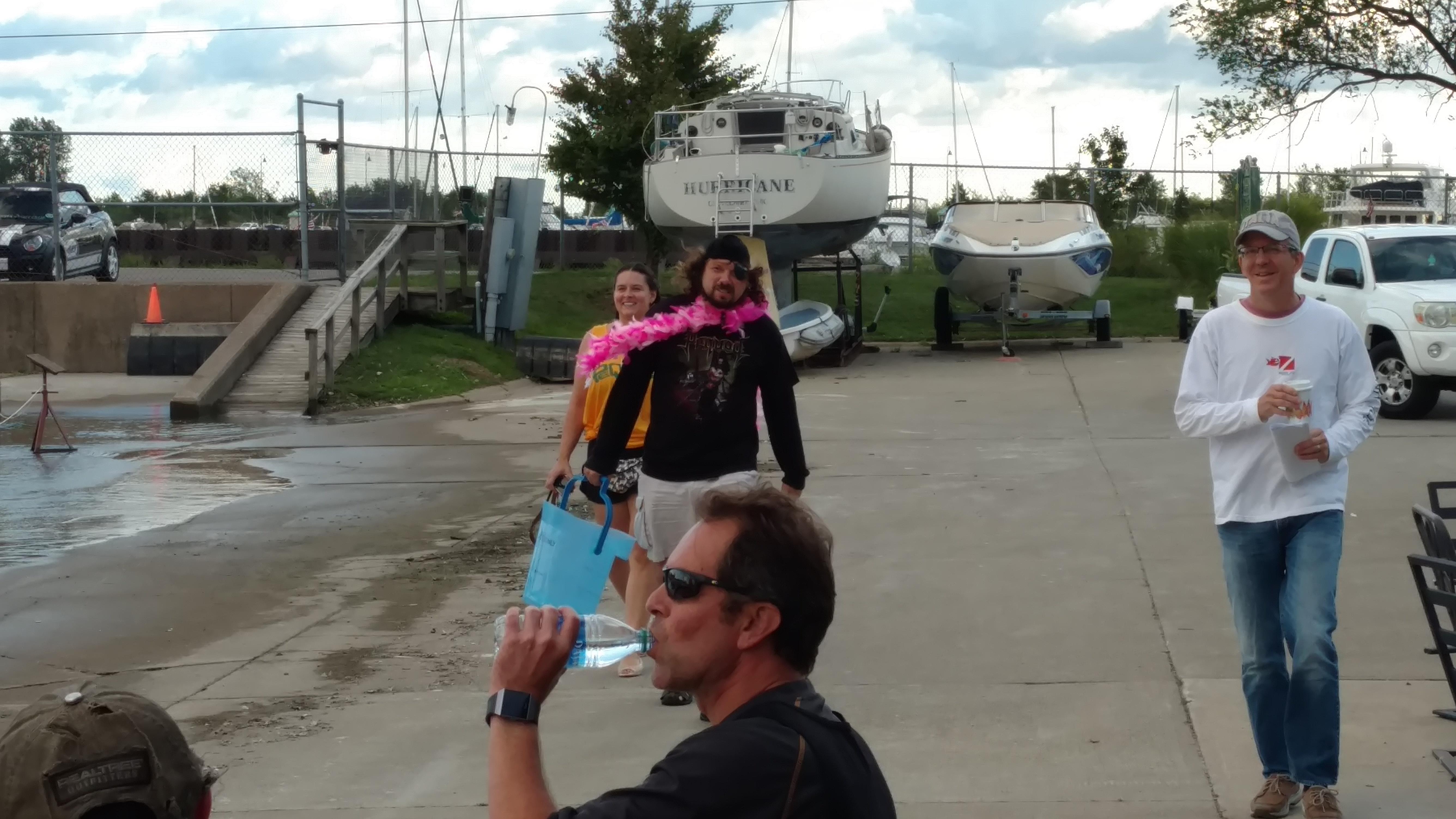 2019 Gibbs Race Finishes
08.17.19
The club held its annual Big Brothers/Big Sisters cruise on the 17th. We had a number of club members show-up to take the eager kids out for a sail or power (only one powerboat turned-up) and everyone had a terrific time in the very cooperative morning breeze. Then all returned to the clubhouse to share a delicious lunch of hot dogs, brats, and watermelon.
Many thanks to the Kaspars (Don and Claudia) who every year schedule and organize this event and for day-of help from Connie Robb, Dick Pinter and Ryan Pinter in producing the lunch as well as the boat owners who volunteer their time, boats and skill to make this possible. The kids really look forward to this annual event!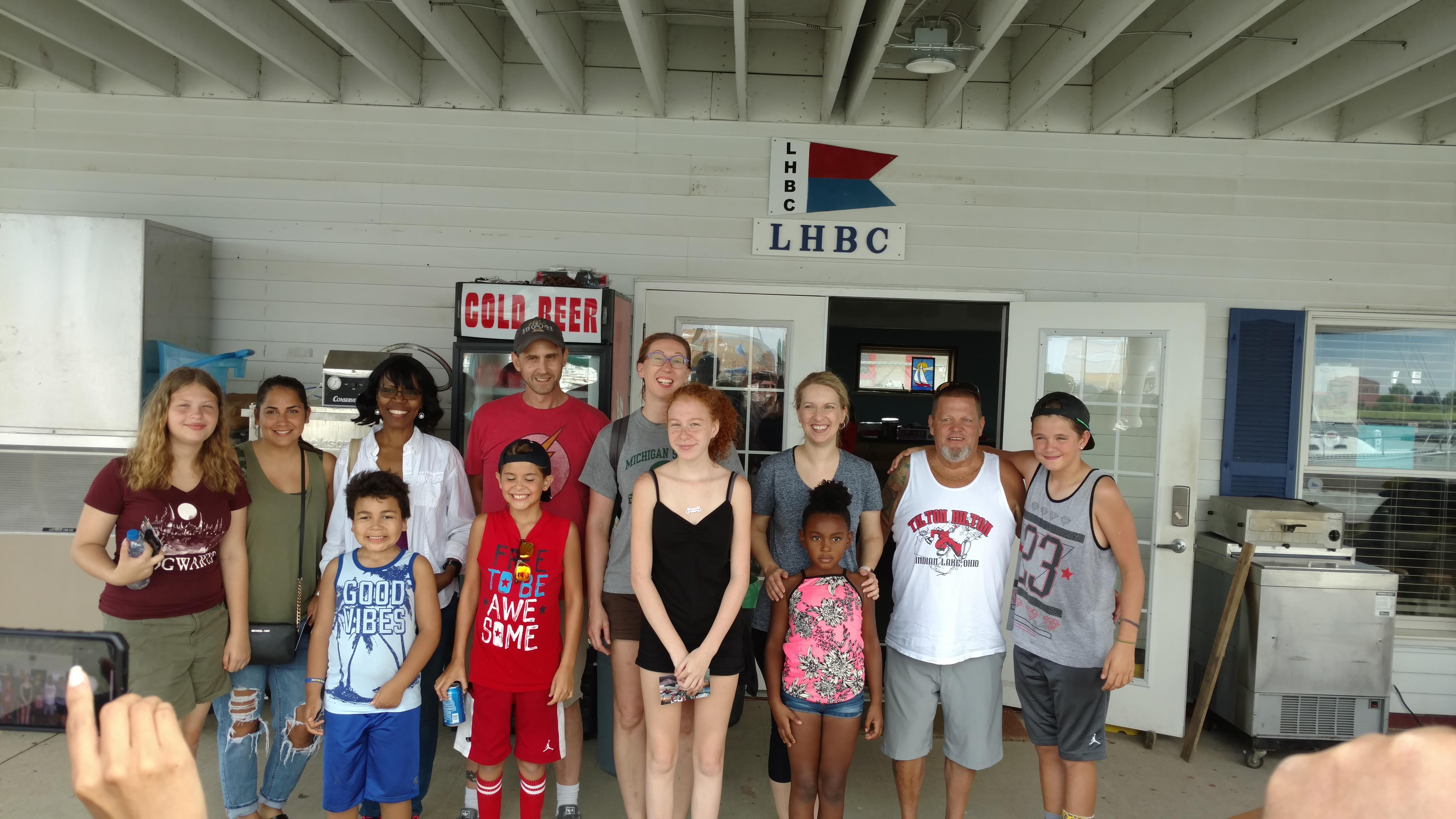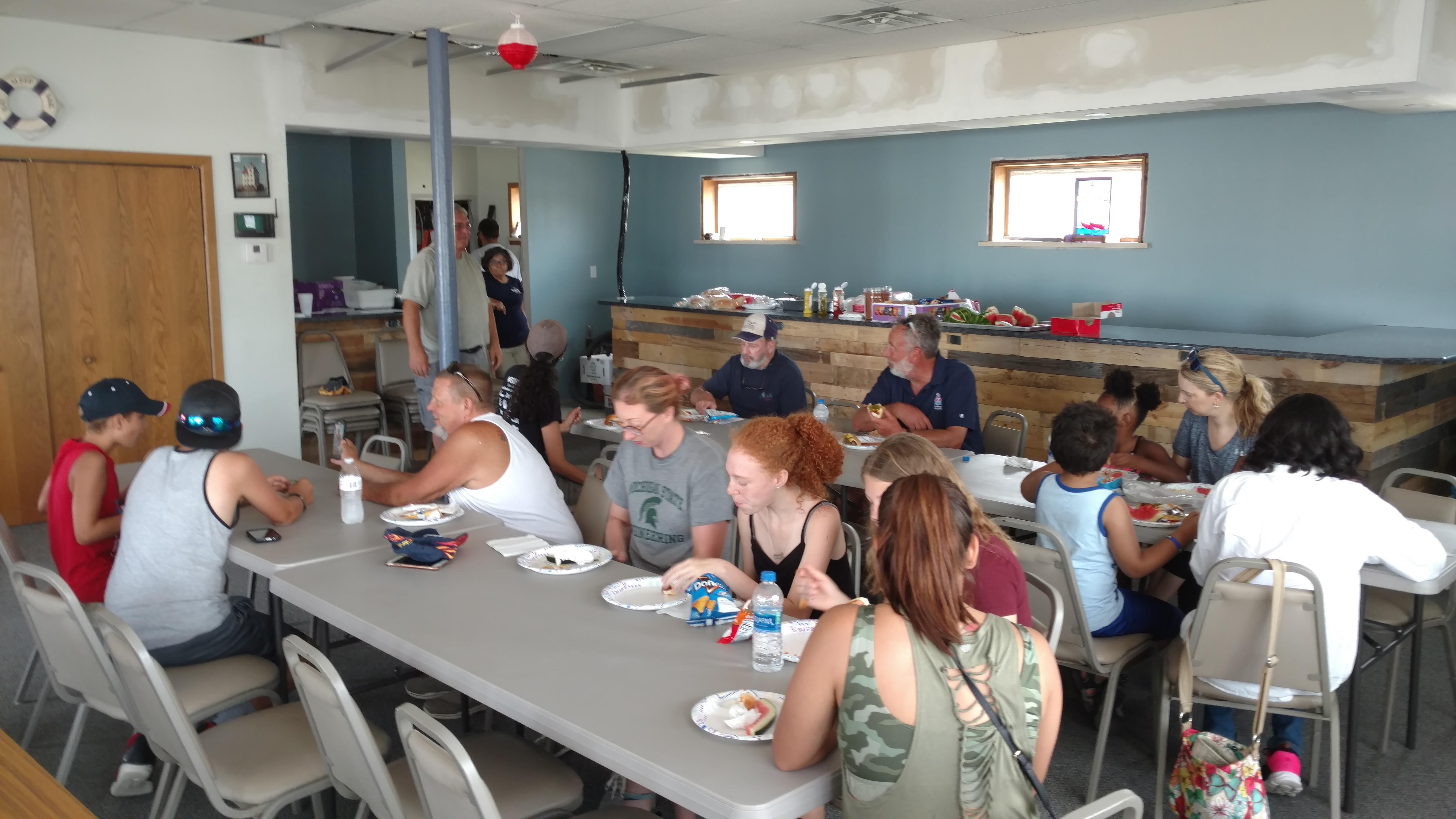 07.27.19
The club held it's third, annual MAST race otherwise known as "Race around the Wrecks" on Saturday, July 27th. Five boats participated in the event which got off the start line at about 10AM. With SW winds constantly above 10 knots and later in the day gusting above 20 knots along the coast it was a quick ride with all boats finishing about 4.5 hours later. It was a fabulous day for a sail!
Find out more and see Results on the Racing page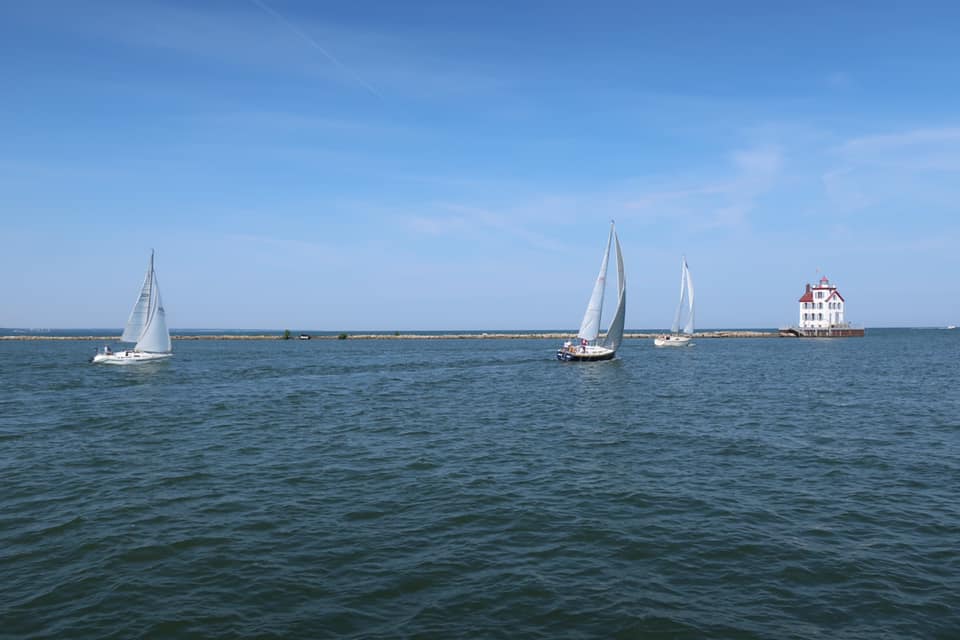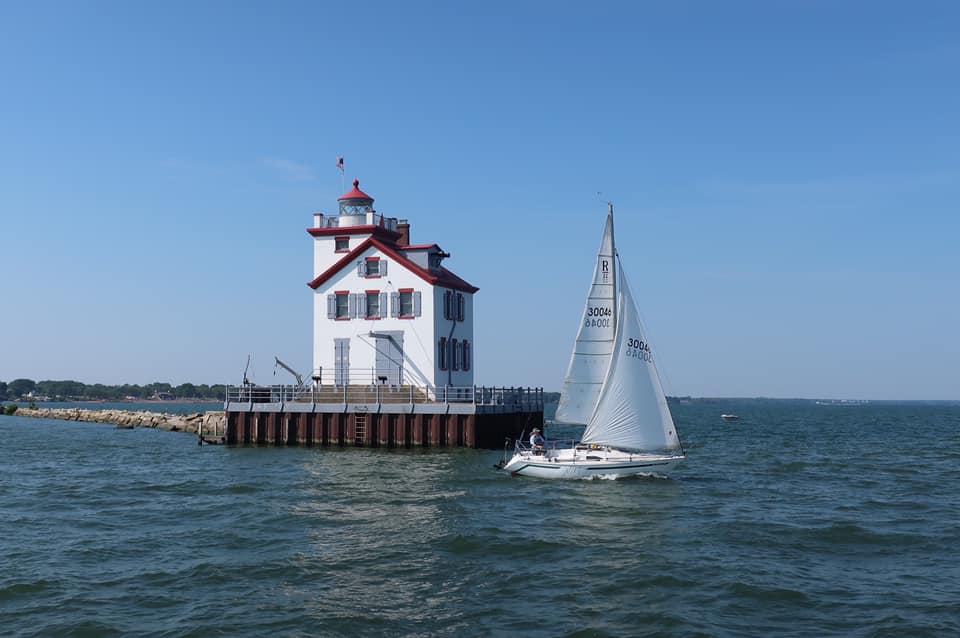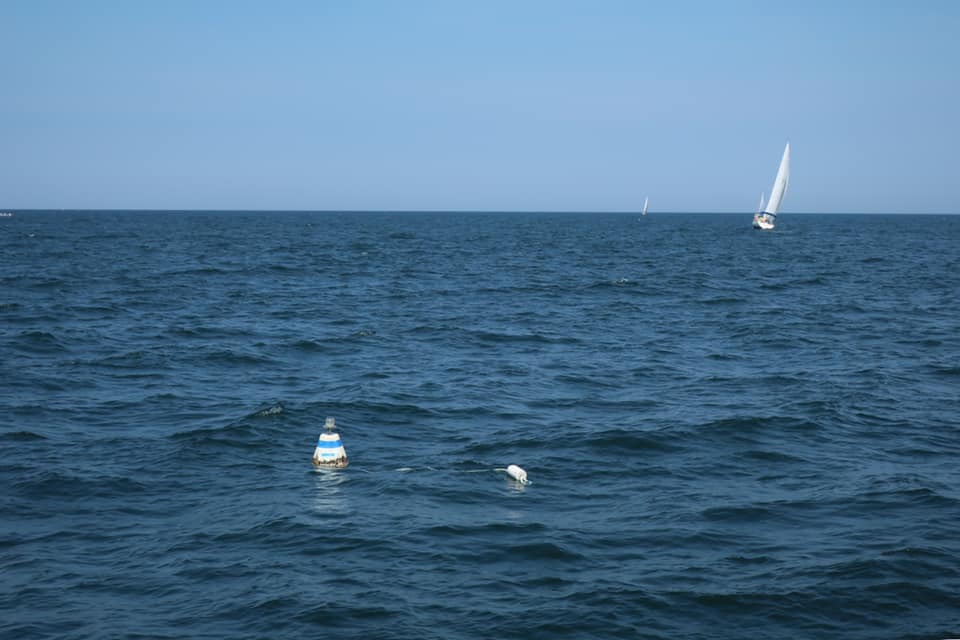 07.20.19
The club hosted the annual Lorain One Design Regatta today. This annual event features open-lake racing for a number of one-design sailboats including our own local Star fleet of sailors. Perhaps owing to having pushed the usual weekend back a week to the 20th, our turn-out was not what we've had in the past. I'm thinking next year the OD regatta will move back to its traditional second weekend of July.
The day gave the four Star and three Interlake boats a wide variety of sailing conditions. The first two races were in a dying SW breeze. Then a pause in the action as the lake tried to decide if it was going to go on-shore or not. The answer was "not" and the breeze returned to the SW with a more steady and stronger 12 knots of breeze.
Many thanks to all the volunteers that helped run the racing and prepped the food ashore. Special thanks to those that volunteered their boats - Paul Kalister and his 21' Chris, Mike Hynds and his 19' Whaler, the Pinters and their 30' Grady, and Jon Peter and his 44' Gozzard. Also thanks to Dwight Sablack who was going to run our separate finish line until it became evident the turn-out did not require a separate finish. In addition to our boat owners, a number of club members turned out to crew the RC boats. A special thanks to all given the 100+ heat index of this July Saturday afternoon. And not to be forgotten member Tim Parker, visiting from his Florida home, who handled overall event management.
Find 2019 Lorain One-Design Regatta Results here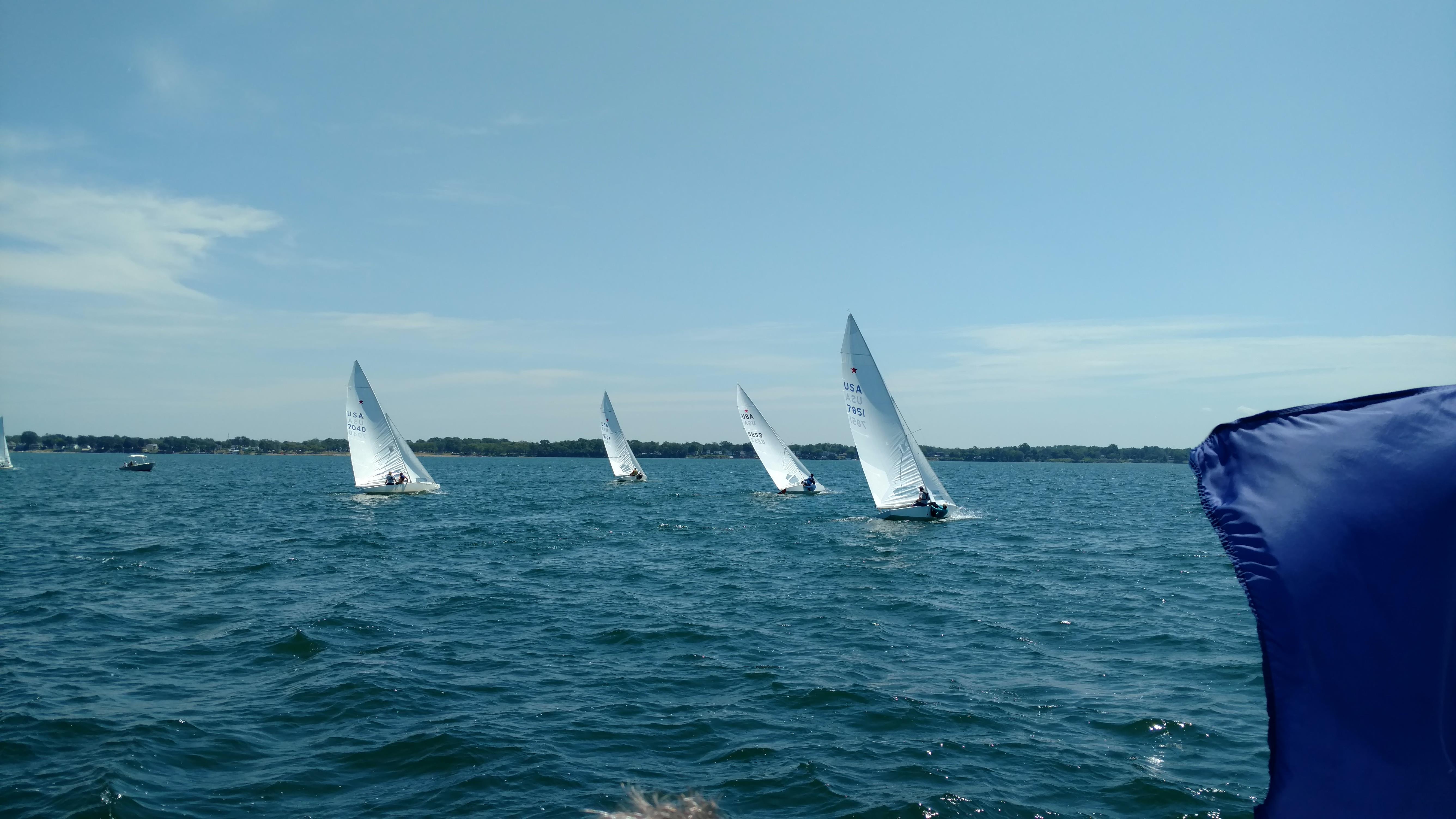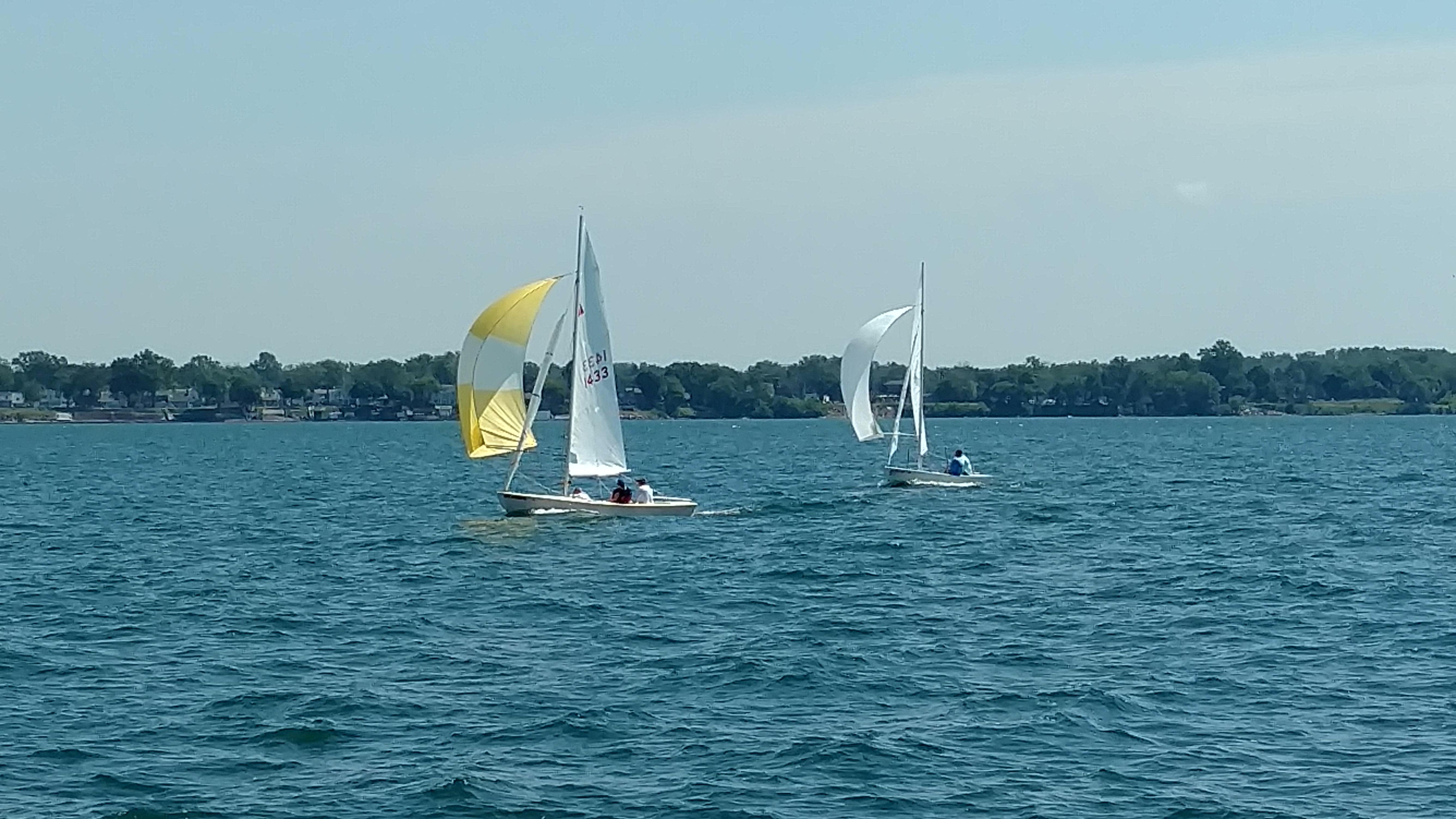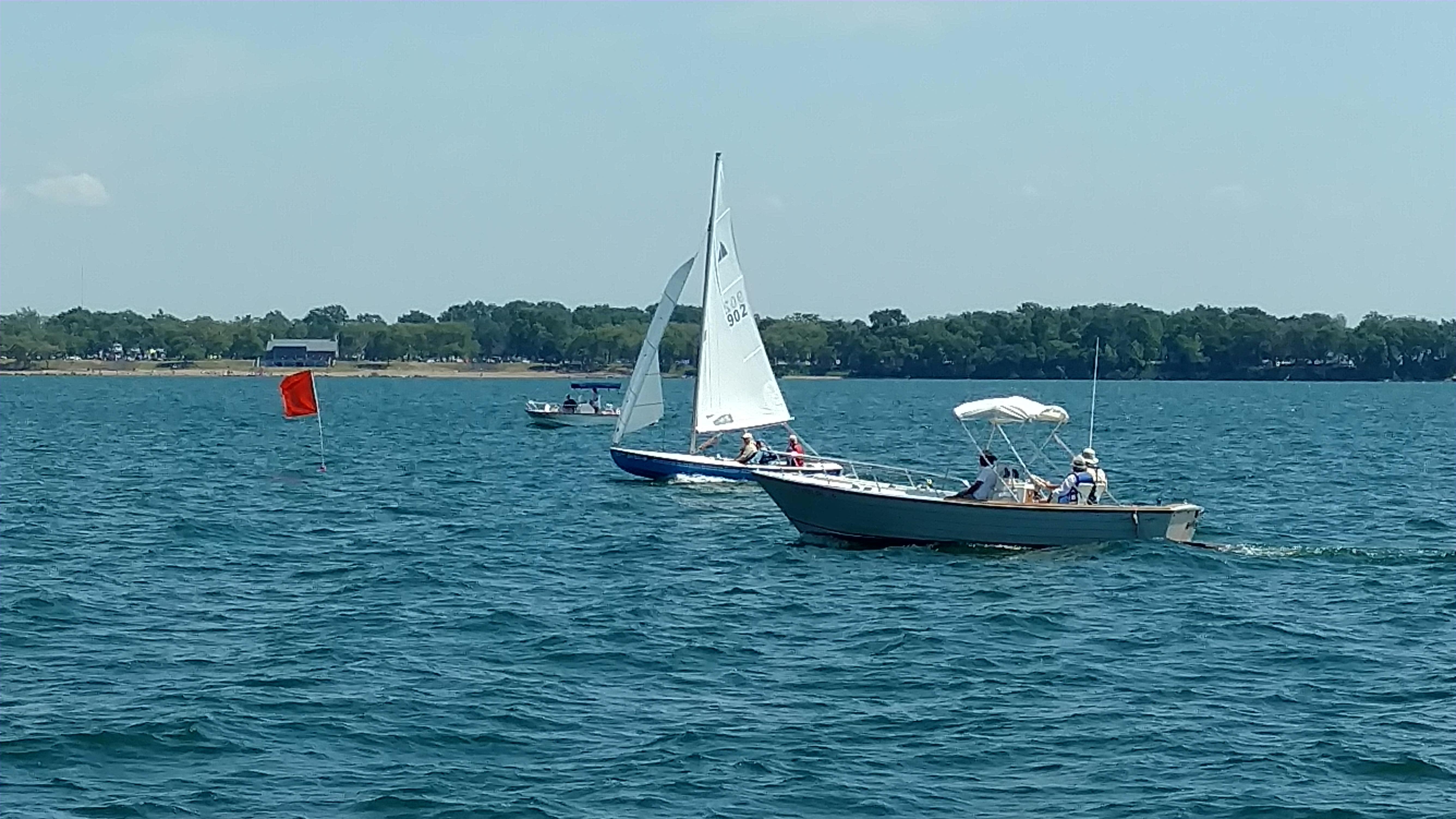 07.11.19
This week the clubhouse has been busy supporting a new class aimed at teens -- the US Sailing "Junior Big Boat" program. This program gave teens a taste of sailing and racing auxilaries and hopefully primed their interest in racing the same boats. While members Greg Geracioti, Jon Peter, Wes Scott and Joe Spainhourd were running the Jr Big Boat experience, members Bill and Connie Robb have been providing shore support for the class.
But that's not all the Robbs have been up to. In addition to helping the Jr Big Boat program, they've been refreshing the shell of the clubhouse with new paint on our shutters and adding our club's new initials over the front door. These two have been busy especially considering the heat this week brought to northern Ohio.
Thanks Bill and Connie for all you're support!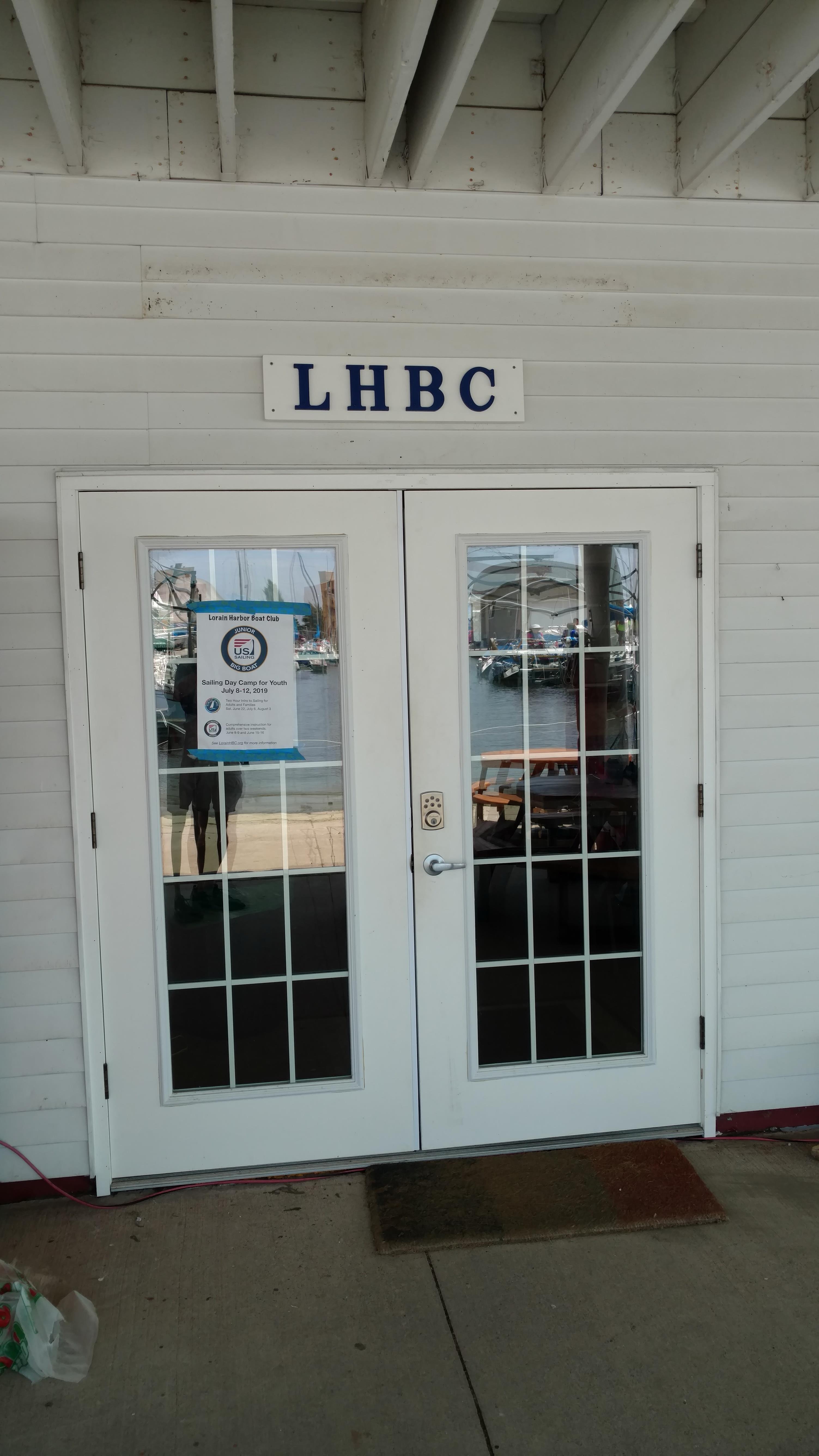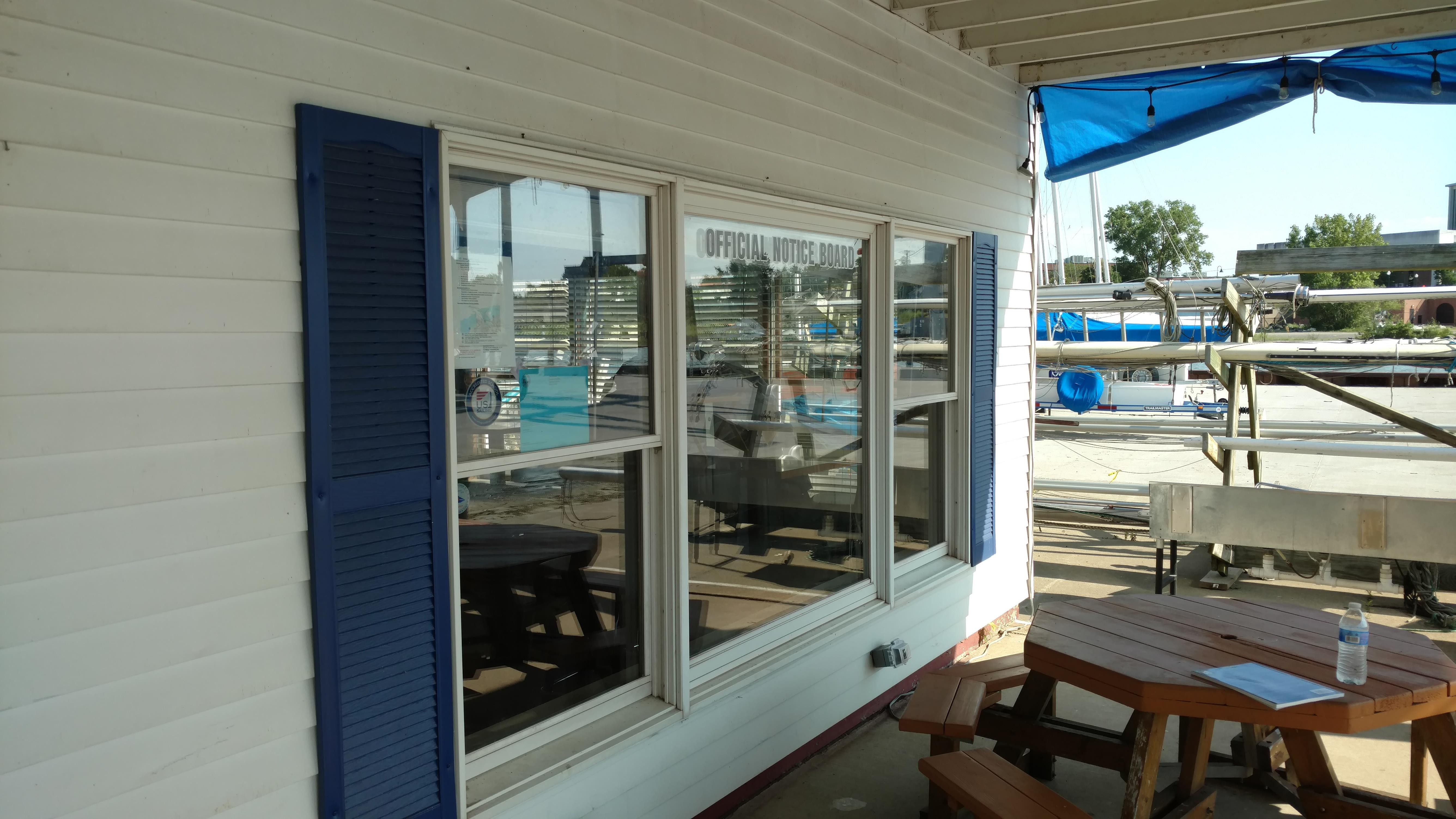 07.09.19
Over a year ago the city, with funding from the federal EPA, rehabed the river walls of the club's boat basin. An over 3 million dollar project received funding from the Feds through a program to restore fish habitats in commercial shipping channels which are, at 30' deep, too deep to support fish spawning.
A wall design by then member Kate Golden (Lorain city engineer) evolved into the undulating and creviced wall system we now see along the club's Black River exposure. Recently signs explainning the work have been posted around the club providing an explanation of this innovative system.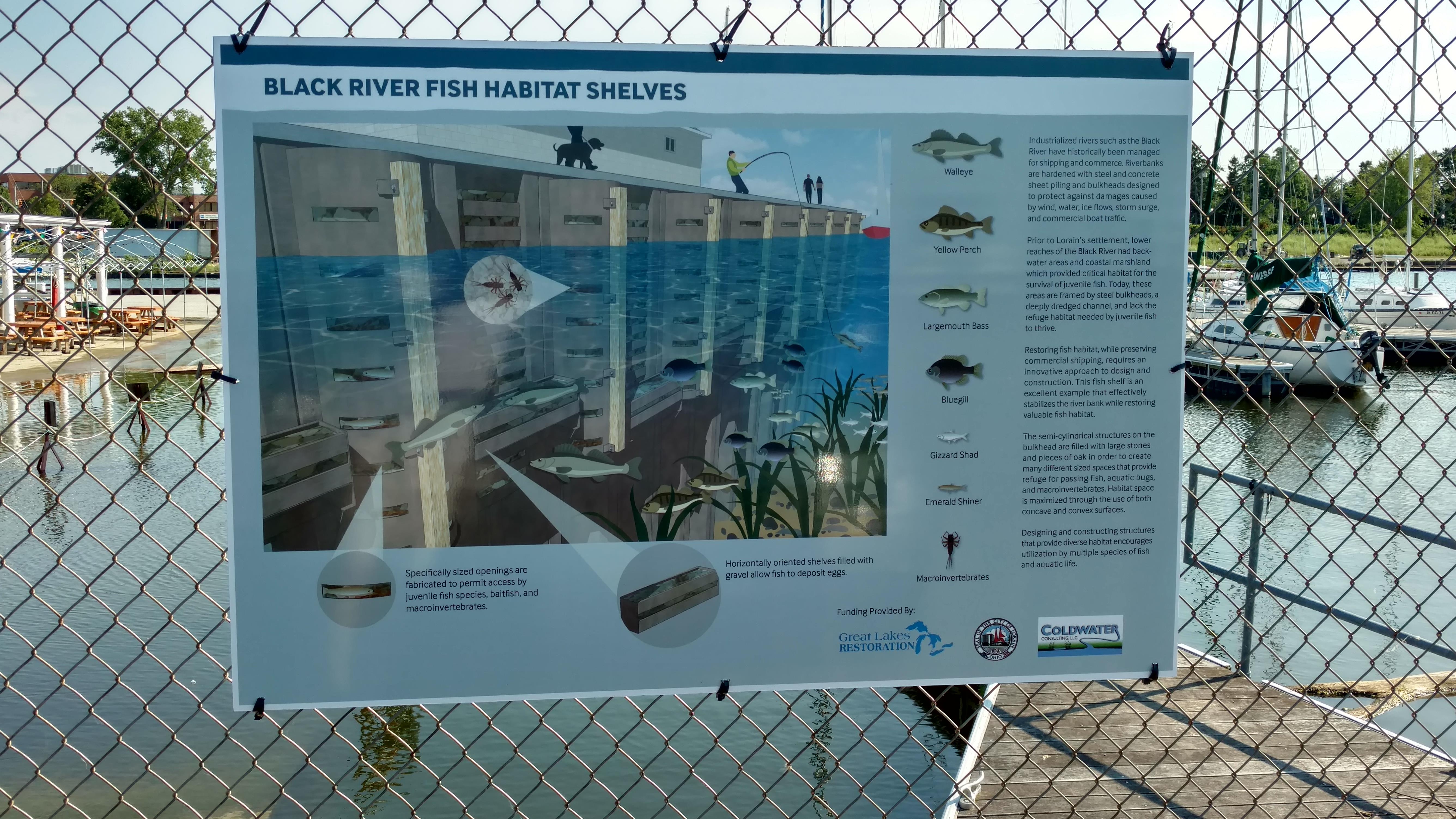 07.04.19
The club's annual Fourth of July picnic was a roaring success with over 90 members and guests in attendance. Our grill masters kept the burgers and dogs rolling and everyone contributed to a cornucopia of sides and desserts. Regrettably this year's higher than normal hatch of mosquitos (due to higher than normal rainfall and resulting flooding of our basin) drove most guests away long before the 10pm start of the Lorain Fireworks display.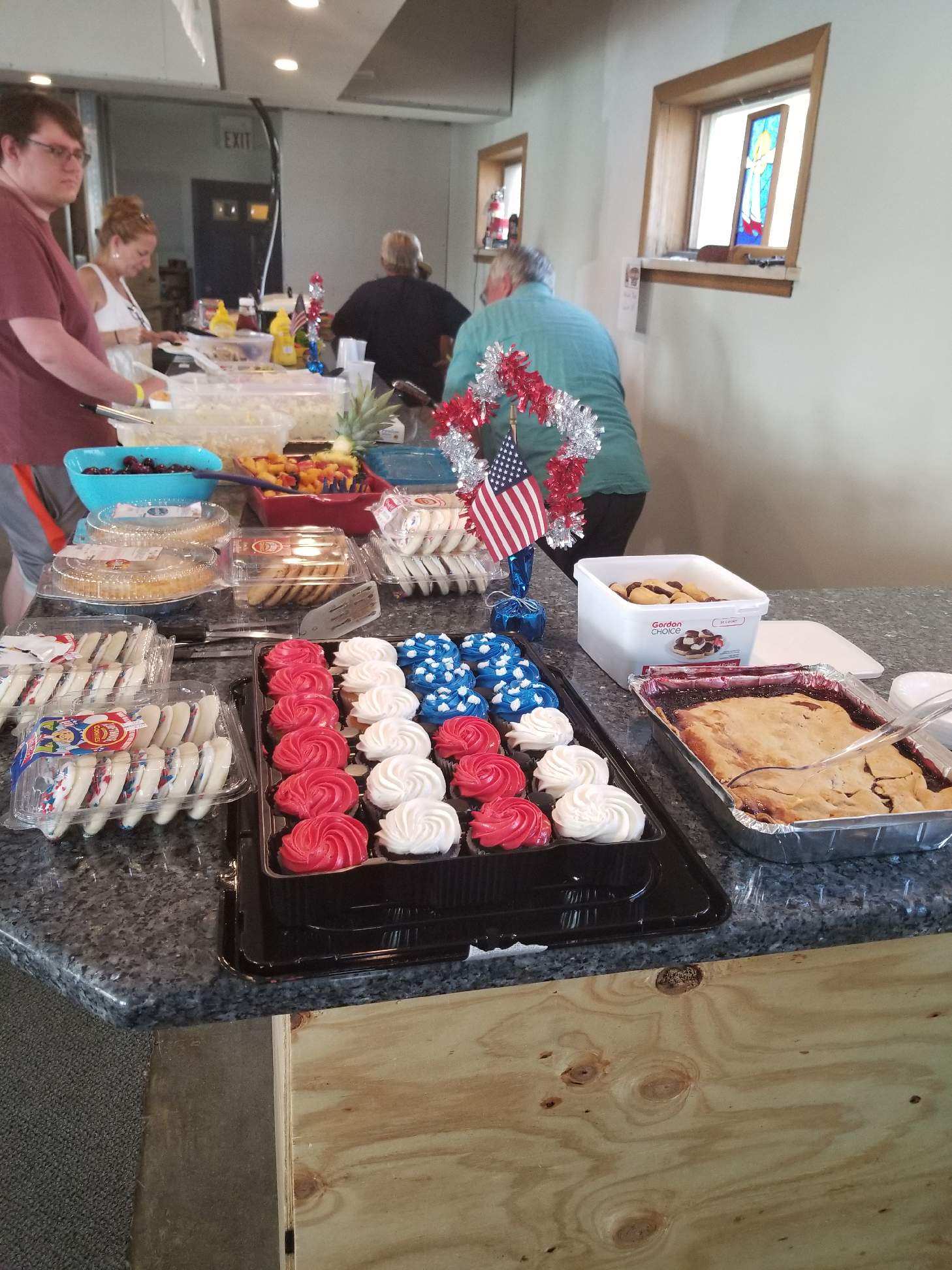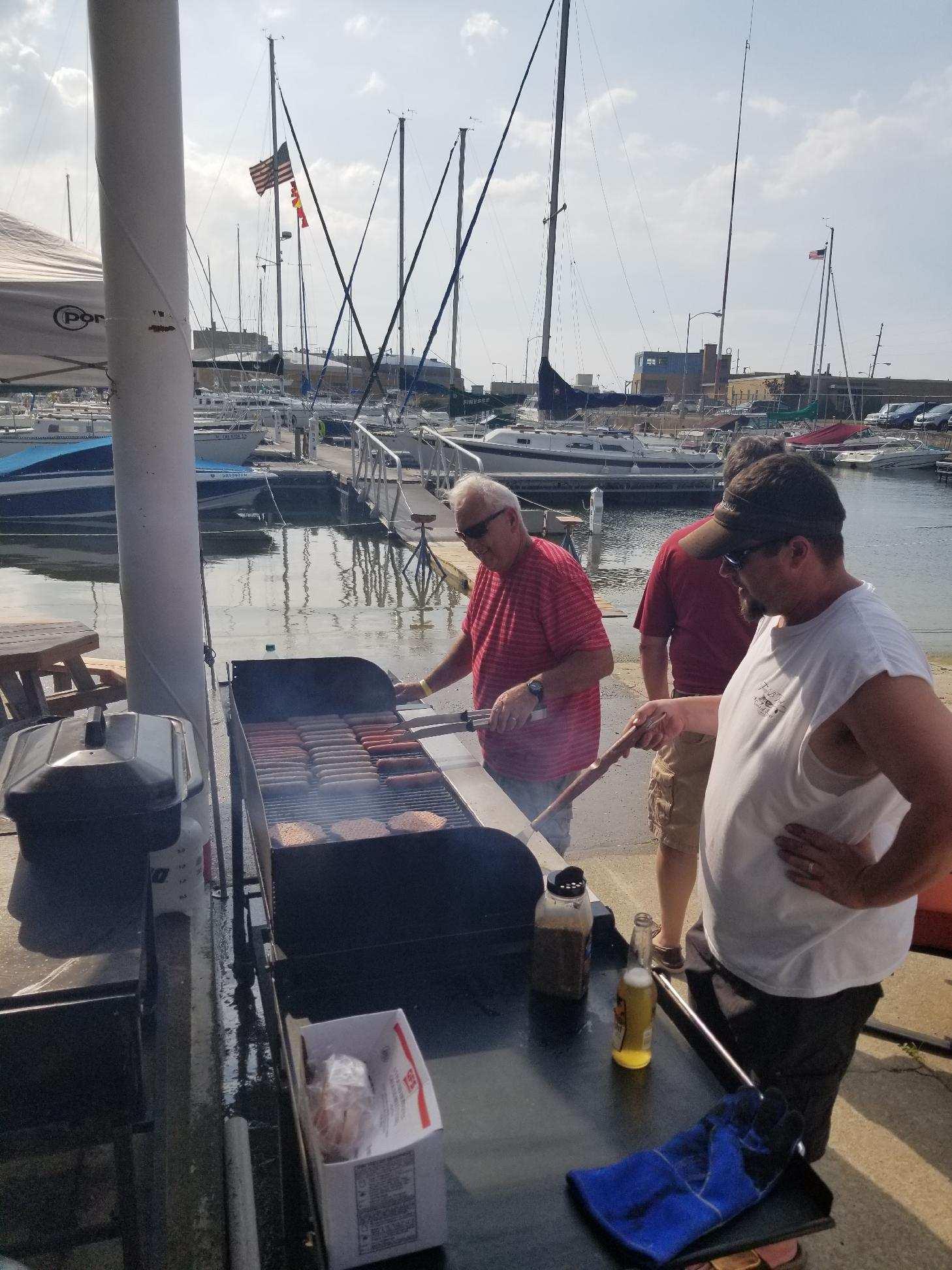 07.03.19
The LHBC PHRF fleet is off and racing with their first counter (and completed) race held on July 3rd. It was a great night for a race, let alone a sail, with winds under 10 knots from the NE lining up near perfectly with the club's "B" and "E" marks. The fleet did a 4 mile loop starting and ending at the "S" mark. Wes Scott on Great Scot handled the start sequence using a three-minute, horn-only sequence. All finishers finished within 10 minutes of the lead boat.
Results available here
There's still plenty of room on the course for more. How about joining us in the JAM or SPIN fleets?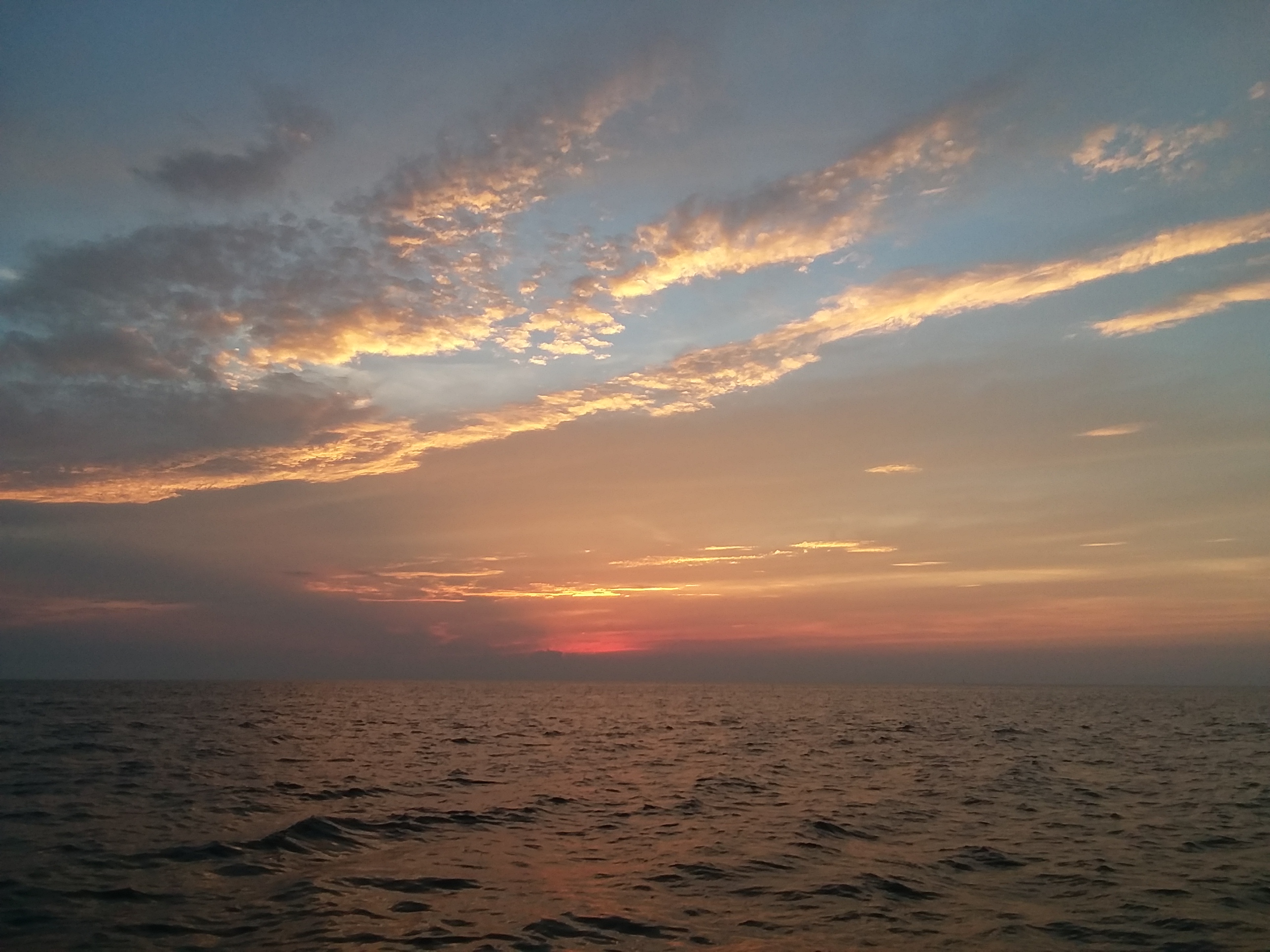 06.24.19
The Marks are in ... finally! After a long delay the LHBC Fixed Mark course has been deployed. The addition of three marks this year that all required anchor and rode plus some general maintenance (which happens every year) delayed their deployment. But that's been finished now.
Wes Scott spent Sunday morning in the attic completing repairs and assembling new rodes. Then in the afternoon with the help of Ryan Pinter, Scott Peterson and Ryan's 30' Grady White we got the marks deployed on station. Thanks guys for all your help!
A new fixed mark chart is still in production and will be posted shortly. Meanwhile, returning racers have been provided with a preview copy of the essentials and we plan to start the 2019 Wednesday night series this week. In fact, this week's race is a "clear the cobwebs" free race so why not consider showing up for the 7pm start time?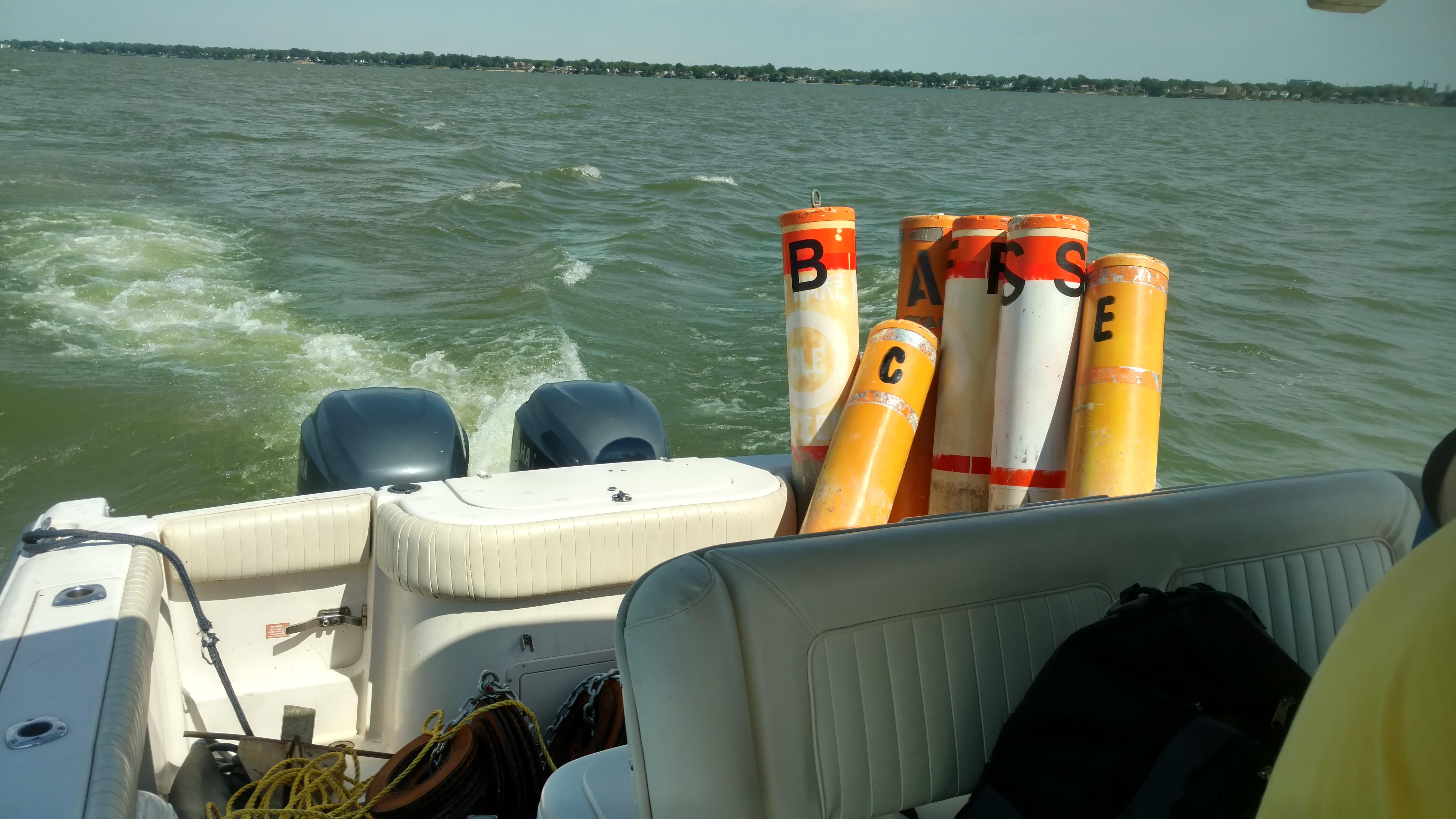 06.17.19
Efforts are moving forward to organize the annual Lorain One-Design regatta at LHBC. Member Tim Parker has taken over management of the event from Ryan Pinter. Wes Scott and Dick Pinter have stepped up to organize the racing portion of the regatta. The year the event is scheduled for Saturday, July 20th. And a meal is planned at the end of the day. Non-racing members are welcome to RSVP to attend just the meal.
Dick and Wes are looking for help on the race course. Chiefly volunteers and/or volunteer powerboats to manage the race are needed. There are also a few positions on the race course that can use a sailboat instead. It's an interesting day on the course watching the race and keeping the action rolling. If you are willing to help out please drop Wes an email (wscott@wowway.com) to let him know.
06.15.19
The club's first Steak Fry was held on Saturday, June 15, 2019 and was well attended with about 50 members and guests showing up. Grillmasters Tim Brunk and Ryan Pinter served up terrific steaks and there was all maner of other wonderful food to go with. Despite the crappy weather outside, tents and high spirits kept the party dry and rolling with a great time had by all. Don't miss our next club event, the annual July 4th picnic and fireworks display!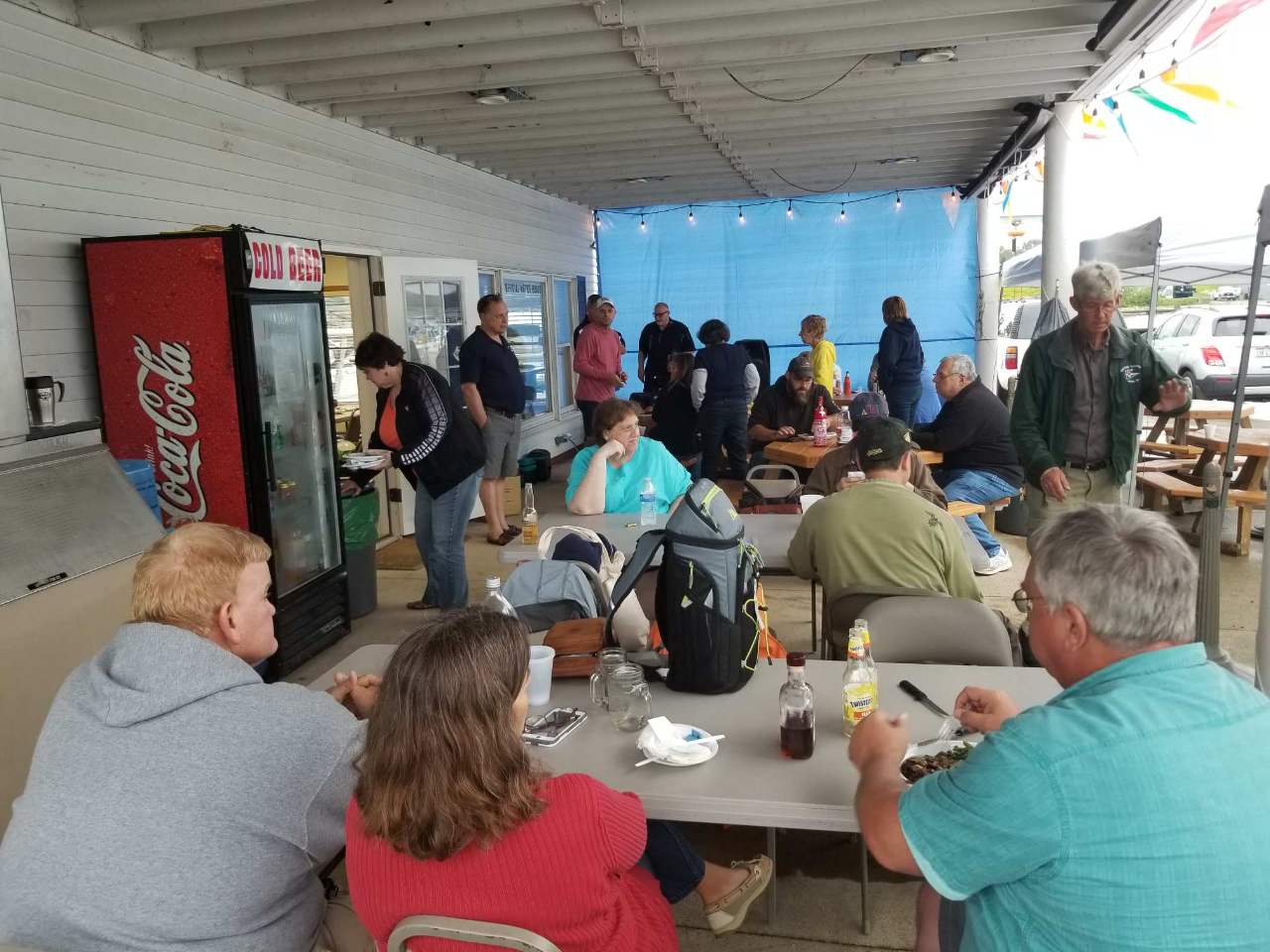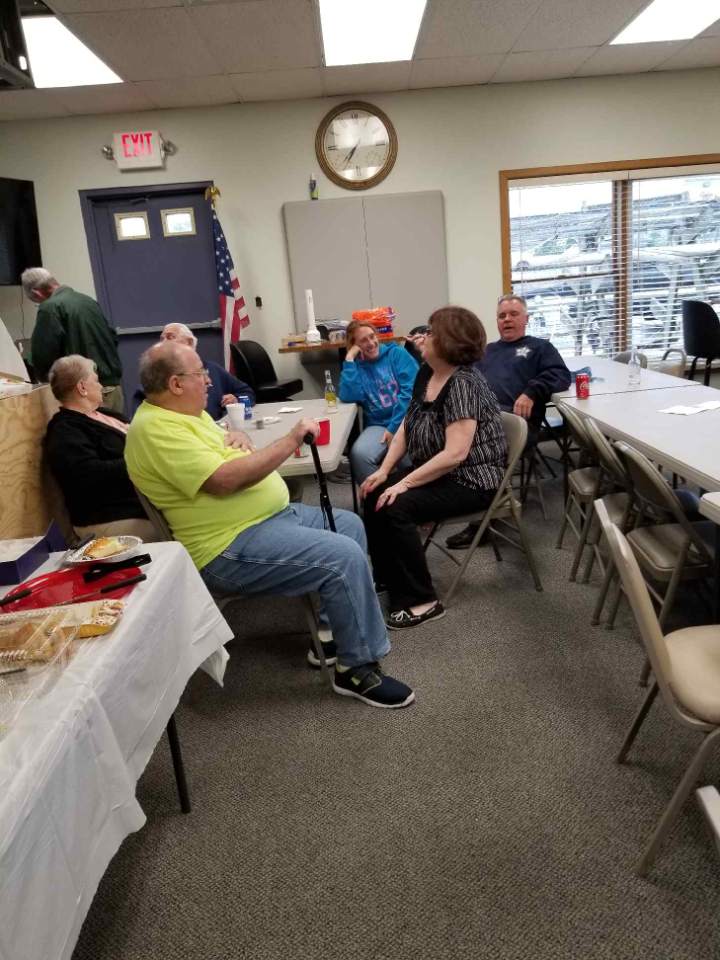 06.15.19
Work progresses on the new bar at the clubhouse. This past week the plumbing passed city inspection and our in-house construction team (Tim Brunk, Don Kaspar and Ryan Pinter) sealed the new drains in with a coating of gravel and cement.
Next step will be smoothing the floor patch out. After that expect construction to really take-off with the hope of completion by the July 4th picnic.
06.08.19
A large group of your fellow club members made the trip to Huron for the first cruise of the season. Many went by water on Friday missing the stronger winds of Saturday but others arrived on Saturday via car to partake in the Saturday events including games and food. Some reported that while the Huron Boat Basin was very accommodating it also is suffering from the same high-water that has been affecting our club closer to home. While the day started off gloomy the weather soon turned around and a pleasant afternoon and evening was enjoyed by all. A thank you to the Kaspars for the pics.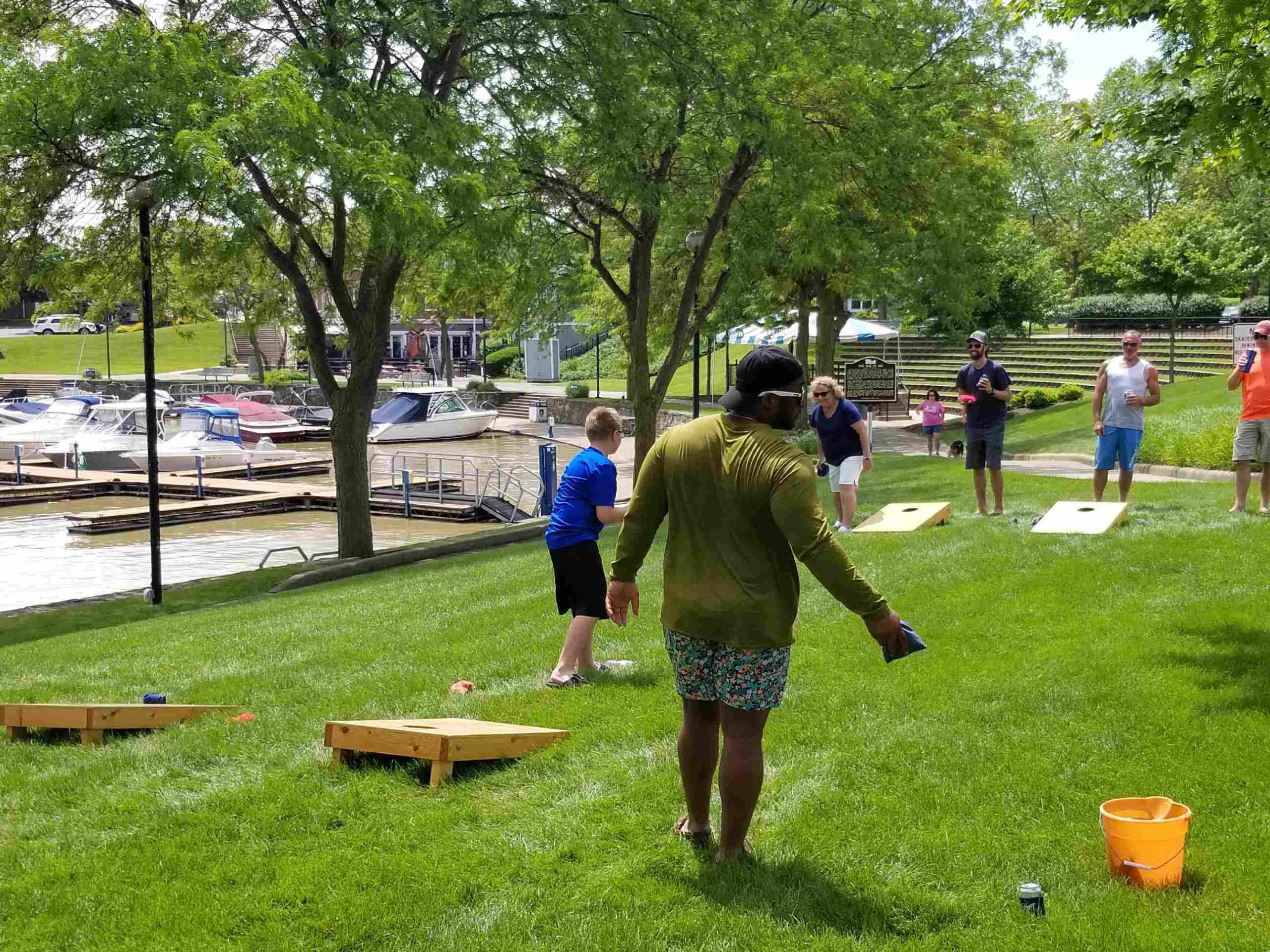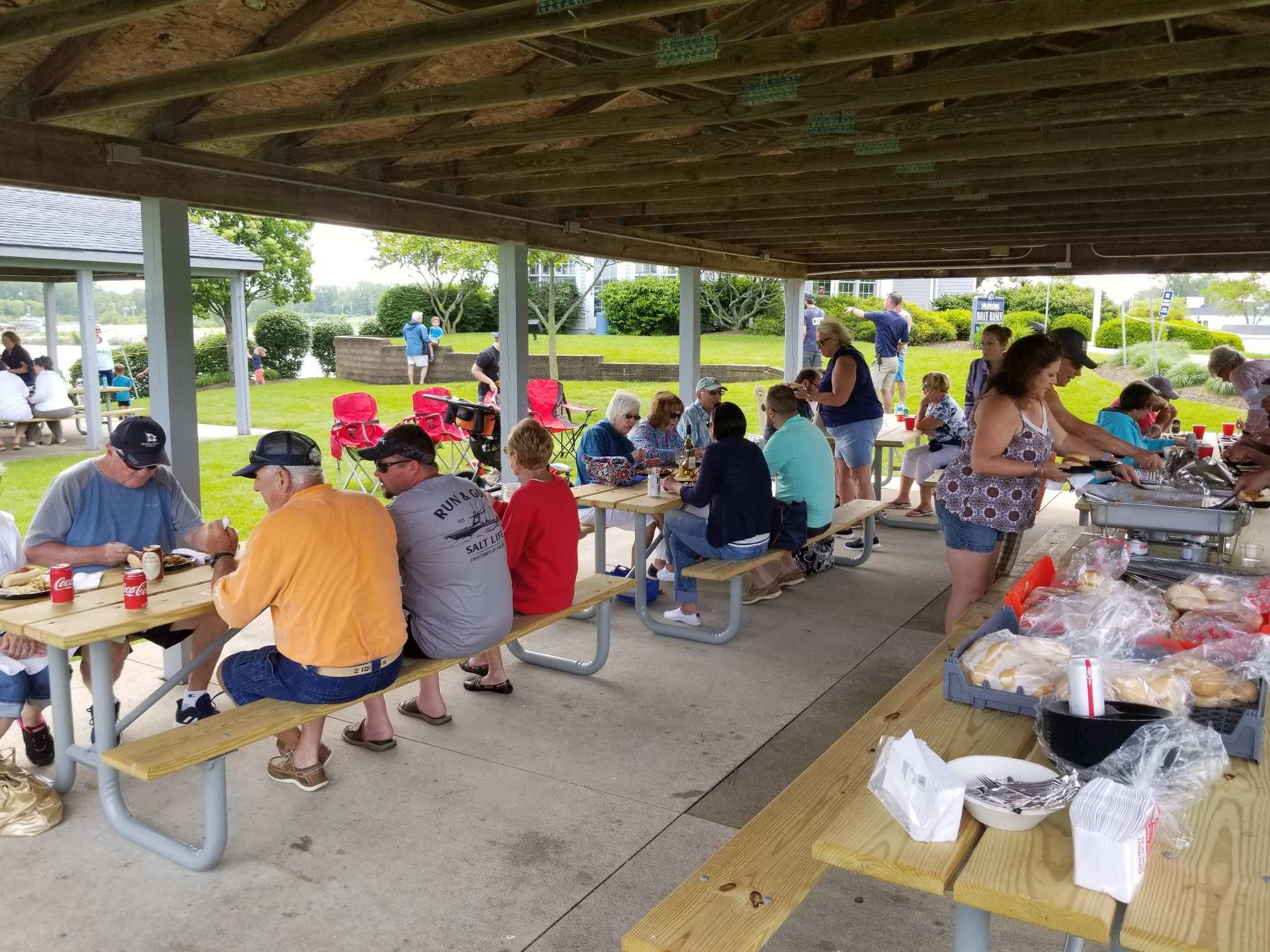 06.01.19
A Dock party was called for Saturday, June 1, 2019. Showing up to help were Joe Spainhourd, Jon Peter, Ryan Pinter, David Textor and Wes Scott. The group worked from 9AM to about 3PM and managed to resurrect the last two, submerged docks -- on D Dock. While still looking worse for the wear, they are now above the surface with the appropriate floats in place and four more slips are now available to rent. Thanks guys for your efforts!
Also filling a busy afternoon was the arrival of two of Lorain's US Coast Guard Auxiliary to offer free safety inspections. Five boats came forward for inspections that lasted a total of an hour and a half. As more members get their boats in the water and if there's enough interest the Auxiliary promised to come back and offer a follow-up inspection event later in the summer. Please let a board member or Bobby know if you are interested in getting your boat inspected and we'll work to coordinate a second day of inspections.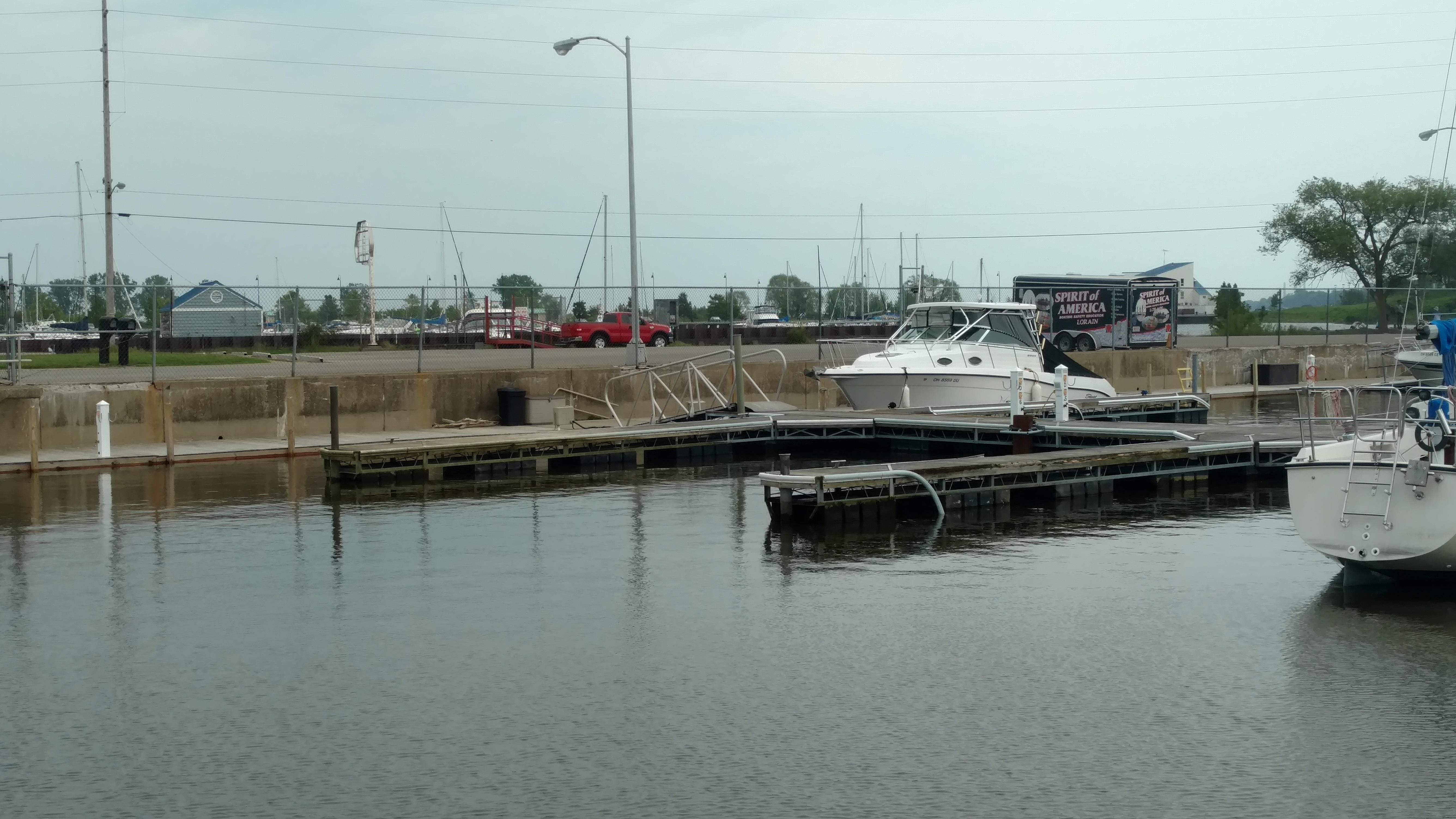 05.25.19
An annual tradition at the Lorain Boat Basin repeated again this year -- the annual Memorial Day weekend meal. This year a chicken dinner was enjoyed by the approximately 50 or so that showed up to feast. As the clubhouse is still under construction some sat inside, others outside and a few amongst the rubble and future prospects of an soon to be operating bar. Just a new spin on a long tradition of getting the summer started with friends and fun!
05.23.19
Commodore Joe Spainhourd has entered into an agreement with the Cleveland Tall Ships Festival for some cross promotion of our websites. In exchange we will receive some free tickets from the organization which will be raffled off at coming events at the club. The Tall Ships will be in Cleveland July 11th through July 14th.
Learn more at TallShipsCLE.com.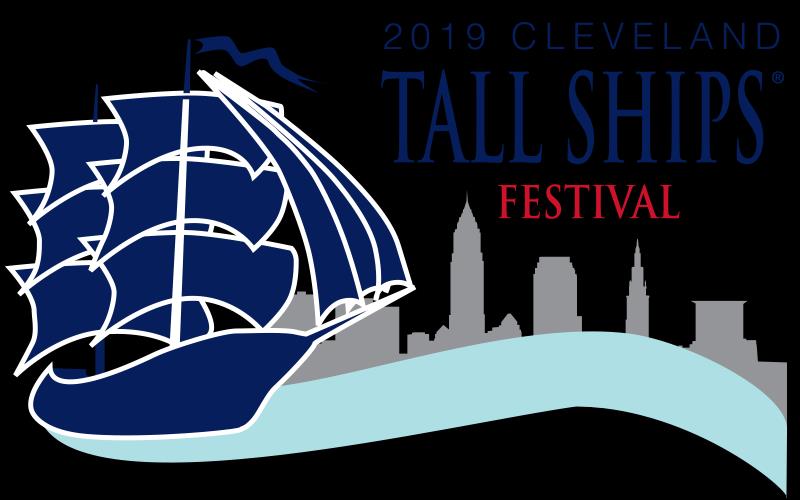 05.20.19
Over the past weekend a number of club members came together on Saturday to work to restore the integrity of the club's floating dock system. The winter has caused a number of breaks and partial sinking of various docks on the B, C and D dock systems. After their careful and concerted work much of that damage has be fixed and all but one of the submerged docks have been restored to being above the waterline, not below.
Commodore Joe reports that the following members joined him to accomplish this transformation. Thanks go to: Bill and Connie Robb, Scott Peterson, Dave Texter, Jim Shaw and his daughter Alyssa, Andy Wilson and Norm Scholl.
Thanks everyone, looks great!
05.18.19
Jon Peter and Wes Scott are spearheading our club's education program outreach. On Saturday, May 18th, they were at the Lorain County MetroPark's Adventure Fest (summer activities Open House) at the Mill Hollow reservation along the Vermilion river. Our club's booth was a stop on the Adventure Passport stamp collection and it featured instruction on some basic knot tying and cleat hitches as well as gutter boat races. Jon and Wes insisted that the kids that visited tied at least one knot to get their stamp -- the gutter boat races were just a special add-on.
About eighty families stopped by the club's booth, while many of the kids were too young for the club's present offerings, a couple adults in these groups took our flier and/or expressed insterest in some of our other programs. Outreach is very important and a free booth at the metropark's event is a great help!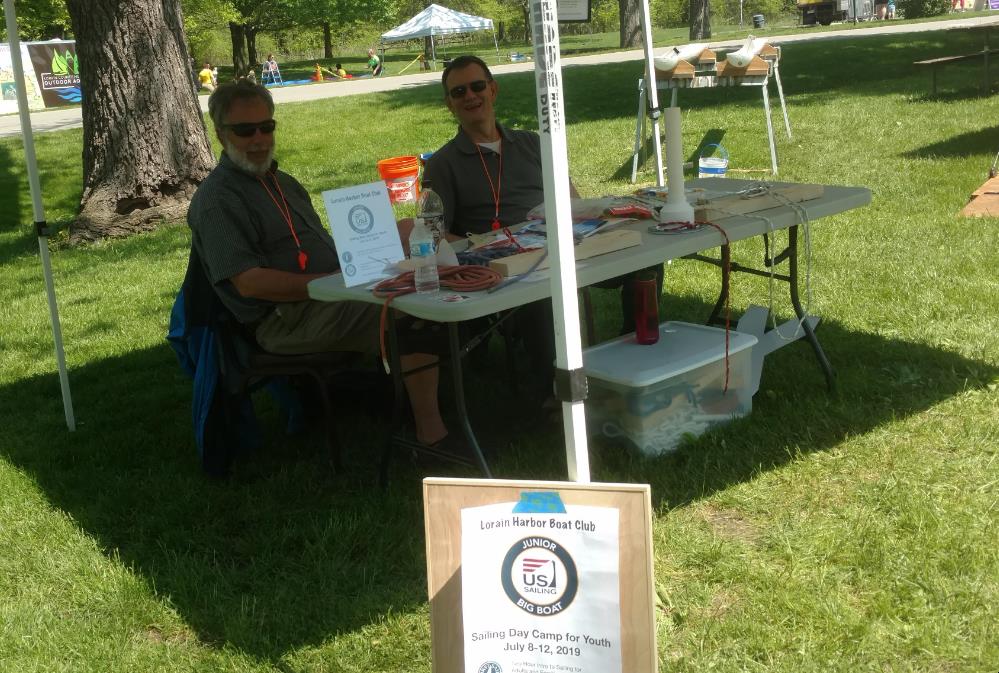 05.14.19
USCG Aux Boat Inspections - Saturday June 1, 11am-1pm
The US Coast Guard Auxiliary will be on-site at the LHBC boat basin from 11am to 1pm to offer free boat safety inspections. Please let Bobby know if you're interested in having your boat inspected at this time so we can properly schedule the Auxiliary's time. However, all are welcome and we will try to fit all comers into the schedule.
05.13.19
Lake Levels remain high on the Great Lakes this year. Lake Erie has already exceeded its high-water record and that is expected to persist through early July when the water will start to recede. Current levels are about 2' above "average" for Erie. But the June average is, in itself, about 1.5' above chart datum (which is 577.5' above sea level).
Learn more about the current Great Lakes waterlevel forecast here.
Meanwhile, we may need to declare a "no wake" zone for all auto-traffic at the club.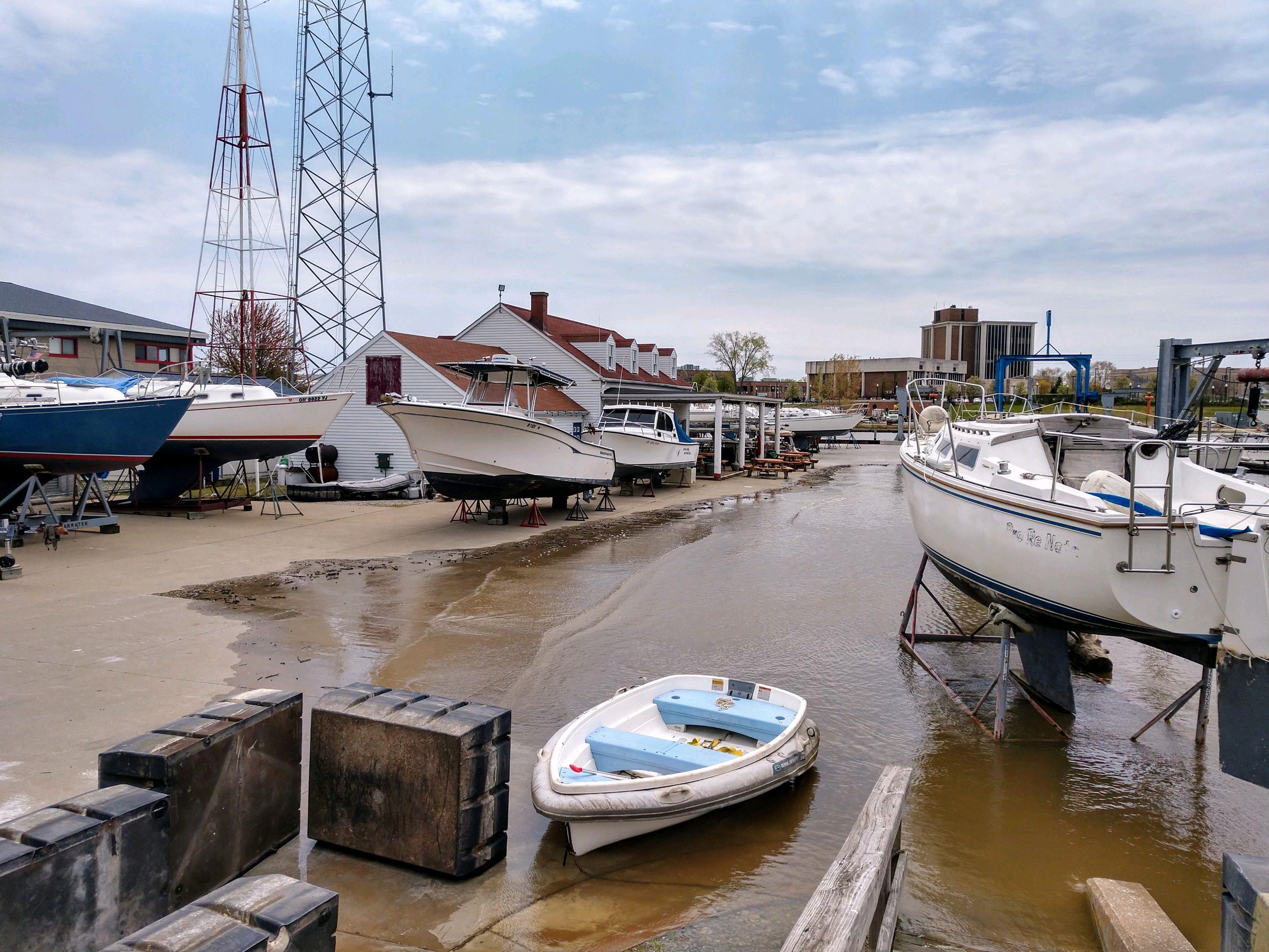 05.08.19
Commodore Joe Spainhourd announced that after allowing members a few weeks to consider purchasing the club's whaler he placed the boat on Craig's list and it was snatched up by a non-member in about 18 hours. Thanks, Joe, for managing the club's assets and supporting its future!
05.08.19
Vice-Commodore Jon Peter announced that plans for the US Sailing "Junior Big Boat" teen sail camp scheduled for the second week of July are moving along well. A planning group has been meeting since the cold of winter and presently have four club members volunteering their time and boats to implement the event. With four campers per boat our group will max-out at 16 teens. Presently we have eleven (11) campers who have expressed interest and two (2) who have formally signed up.
Junior Big Boat will run from Monday July 8th to Thursday July 11th reserving Friday of that week for any weather-related make-up. The camp runs from aprox 8am to 5pm each day. We are accepting campers from 12 to 17 years of age.
The program is still looking for volunteers to help for full or half days in supporting the shore-side work running this program. We can schedule you either for a full day's shift or half a day, morning or afternoon.
Find out more about Junior Big Boat at Lorain Harbor Boat Club here.
05.04.19
Welcome to our first boater in the basin this year, new member Andy Martin. Andy joined LHBC this year after many years of boating on the lakes around Akron.
Having previously owned powerboats, his Paceship 26 is his first sailboat. He's excited about expanding his knowledge of sailing and welcomes any advice or even a ride-along (your boat or his) to increase his skills and ability. Andy will be docking on "A" dock. Stop by and say "Hi!"
05.01.19
A full rainbow shown over the club at the conclusion of the May 1st Racer's Planning meeting. The meeting was called by our Vice Commodore, Jon Peter, and focused mostly on the time-handicap or "PHRF" fleet which plans to continue racing on Wednesday evenings from June through September.
Jon spoke about the club's intentions to reduce the organizing and management workload of keeping the program humming via automation, simplification and sharing the work around. This includes acquiring an automatic starter, having each registered boat take turns carrying and running the starter, and all racers taking their own finish times using a common time source (cell phone or GPS) which is reported to a central collector.
On the retail market such auto-starters run about $500 and up. But Commodore Joe Spainhourd has located plans for a DYI starter that can be built for about $200. The unit will have a horn and a display of lights so starting boats can keep informed on the current phase of the start sequence. It's our intent to strap the unit on the boat of a willing racer who will be the group's starter that night. The starter will also be responsible for selecting a windward mark, course and deploying and retrieving a spar buoy to demark the other end of the start/finish line -- of course lined up with the selected first mark.
Former Fleet Captain, Wes Scott, spoke about plans to deploy seven fixed marks this year -- once repairs, painting and some new anchors and rode are acquired. Wes showed a diagram of three years of RC records of Wednesday evening wind direction and it was obvious that most of the breeze comes from either the NE or the S to WNW quadrants. The general plan is to deploy a "center" mark the other six marks in the most consistent quadrants.
The season and fees were discussed. The Season will run from early June through mid to late September, every Wednesday. This will provide for 16 Wednesday nights which will be divided into two series of 8 Wednesdays each. Charges for racing will be $100/series and full active club membership will be required to join the fleet. In addition a surcharge of $15 will be added to each boat's first series (whether that's Spring or Fall) that they sail to help offset the cost of the new auto-starter.
Jon also asked if there was any objection to mixing boats with and without spinnakers in the same fleet using the different PHRF ratings for with and without a spinnaker. No one seemed to have any concern as long as the rating selected was locked in for the entire series raced -- no switching depending on the night's condition.
Plans are to get the buoys deployed in late May and start racing on the first Wednesday of June.